Realization of a diverse and motivating workplace
Realization of a diverse and motivating workplace
The Megmilk Snow Brand Group recognizes the respective individuality of all persons, regardless of gender, age, nationality, or whether or not that person has physical disabilities. We strive to be a company that generates synergy by encouraging individuals to reach their potential. We are focused on creating an environment that supports diverse workstyles, including supporting child care and family care.
Workstyle improvements achieved through the Megmilk Snow Brand initiative to improve work productivity and work reforms implemented since FY2016 have achieved numerous results, including reductions to overtime hours that exceed goals and employee returns via incentive payments.
In FY2017, each section engaged in an initiative to improve meeting efficiency, shift to paperless meetings, improve time management (reduction of overtime hours), and further promote paid leave acquisition, and the "3/4 Challenge Activities" to reduce workload related to indirect tasks that occur among various sections. In FY2017, we also conducted a test run of a telecommuting structure. Based on those results, we made improvements and adopted the system full-scale beginning in FY2018.
In FY2018, various sections, including R&D, Purchasing, Production, Sales, and Logistics, cooperated to increase Group value chain productivity by improving core workflows, direct tasks in addition to indirect tasks.
Labor productivity improvements and workstyle reform
Enhancing time management
* Overtime labor reduction rate goal of 20% (vs. 1H/FY2015)
Using PC login / logoff time records to increase awareness
Department-specific overtime labor status analysis and establishment of reduction goals
Paid incentives to employees based on corporate goal achievement rate
Promoting paid leave acquisition
* Goal acquisition rate – 70% or higher
Create environment that promotes taking vacations by reviewing holiday breaks and shifts
Newly establish half-day paid leave system
Challenge 3/4 Activities
Department-specific workflow review, establishment of initiative efficacy goals, and progress confirmation
Linking with results analysis
Reflecting initiative results in personnel reviews
Creating work environment
| | |
| --- | --- |
| Efficient meeting operations | Optimization by improving meeting progression |
| Shift to paperless operations | The use of conference room equipment, videoconferencing systems, and digital documents will lead to more efficient meetings and the diversification of workplace locations. |
| Telecommuting program | Applicable to all employees approved by a direct manager (test run in FY2017, full-scale adoption in FY2018) |
The Megmilk Snow Brand Group conducts personnel education for all Group employees based on the philosophy that people are our greatest assets. Megmilk Snow Brand Group companies' employees participate in Megmilk Snow Brand's new employee training and new management training. Since FY2018, they also participate in position-specific training.
We also are focus on enhancing our training programs. Since FY2017, we have conduct training programs applicable to all management employees age 50 and younger, and include diversity training for management and workshop career support training to promote proactive career design* and self-sufficient skills development for subordinates.
* Refers to process of evaluating career and independently developing skills towards becoming the "person you want to be"
In FY2018, we adopted a new program for training female managers and our entire Group is implementing various policies to further understanding of personnel diversity.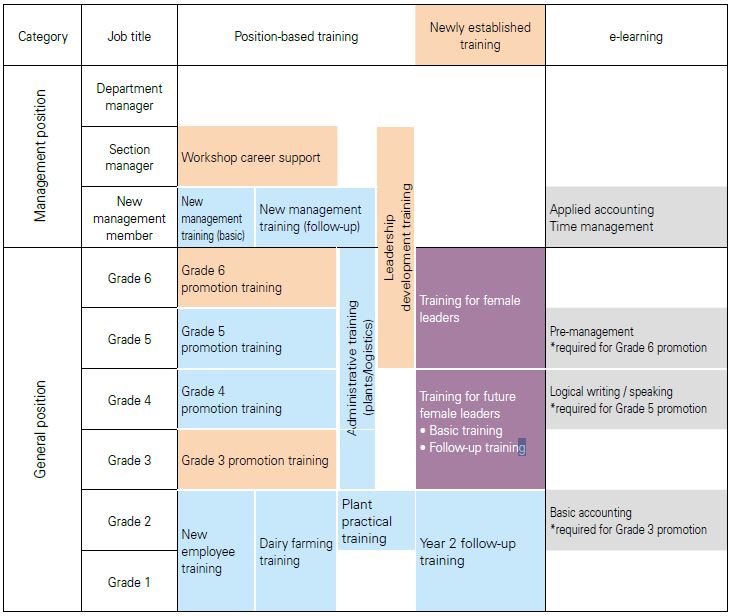 Promoting women's active participation in the workplace
Promoting women's active participation in the workplace
Initiative 1: Supporting work and home life balance
We provide programs that support a balance between work and having/raising children. We have established systems for remained connected and achieving self-improvement during leave, conduct pre-return interviews, and child care leave programs are available to both female and male employees. We also conduct training for supervisors.
Initiative 2: Planned personnel development
We conduct position-specific female leadership training and female leadership candidate training with the goal of fostering the skills required of leaders and fostering independent action aimed at the realization of individual career visions. To alleviate concerns regarding career advancement, we promote exchanges of opinion with senior employees and network building among female employees.
Initiative 3: Fostering awareness of women's active participation in the workplace
We use information distribution through our intranet and internal publications to foster awareness of women's active participation in the workplace and promote understanding of company systems.