Message from the President
Opening up the Future and Contributing to Society by "Monozukuri" (Manufacturing) Putting Our Hearts into Milk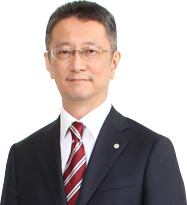 Based on our corporate slogan, "Make the Future with Milk", we actively undertake to create new value from milk by providing consumers with safe and reliable dairy products, including milk, yogurt, butter and cheese.

The Group's corporate philosophy includes three missions: "Focus on customers", "Contribute to dairy farming production" and "Put our hearts into milk". By pursuing these missions, we firmly resolve to continue contributing to society as a company. As we have worked toward the development of the dairy farming industry, we have been proactively undertaking the challenge of producing attractive products that meet consumer needs, so that we can provide them with products that taste good and are healthy.

We offer 6P Cheese, Slice Cheese, Sakeru Cheese (string cheese) and other, which were developed as a cheese suitable for the Japanese taste, and also, long-selling products such as Snow Brand Hokkaido Butter, Snow Brand Coffee (milk beverage) and Neosoft (margarine). These have long been enjoying the patronage of the consumer.
Furthermore, due to rising health consciousness, Natulait Megumi, which includes our own probiotic bacterium, Lactobacillus gasseri SP, enjoys great customer popularity.

We are pushing forward with initiatives to offer creative and unique new products as well as taking up the challenges of developing new markets and creating new demand.

Our business environment is changing dramatically, and the rate of change is increasing drastically and more speedily. Against this challenging backdrop, we consistently pursue research involving milk, hone our products development capability and add value to the milk supplied by dairy farmers so that we can provide products to satisfy consumers.

As a group, we put our hearts into milk. We bring out the potential and value of milk. By pushing back the boundaries, we aim to create the future as a comprehensive dairy product producer.

I ask for your ongoing patronage and support of the MEGMILK SNOW BRAND Group.
Keiji Nishio
Representative Director and President
Megmilk Snow Brand Co., Ltd.