With the corporate slogan, "Make the Future with Milk," the Megmilk Snow Brand Group provides safe and reliable milk, yogurt, butter, cheese and other products to consumers. At the same time, we are actively committed to the creation of new value through milk.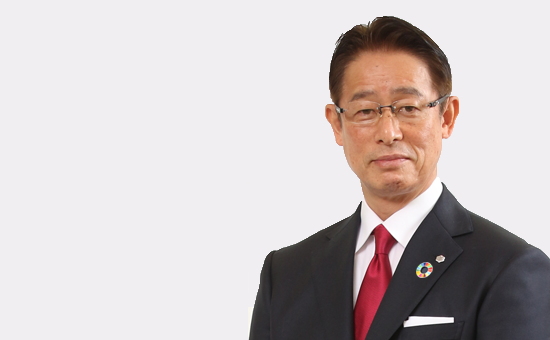 The Megmilk Snow Brand Group's corporate philosophy conveys our strong wish to continue contributing to society by fulfilling three missions: focus on consumers, contribute to dairy farming production and put our hearts into milk. We have pursued attractive monozukuri suited to consumers' needs, hoping for the growth of the dairy farming industry.
6P Cheese, Slice Cheese and Sakeru Cheese represent our pursuit of tastiness to match the taste preferences of the Japanese people. In addition to these product items, our long-selling products such as Snow Brand Hokkaido Butter, Snow Brand Coffee and Neo Soft have enjoyed your patronage for a long time. The Gasseri SP Series of yogurts use our original lactic acid while MBP Drink contains MBP®, an ingredient that enhances bone density. These products have been received very well as more people become oriented toward health.
Going forward, we will continue delivering the fun of eating and help customers stay healthy through these products and create unique products that only we provide as we continue working to create new markets and demand.
The business environment surrounding us is uncertain and severe, as represented by global warming and other serious environmental issues and the unexpectedly rapid change of the social structure. Against this backdrop, we are pressed with the need to answer a question: Why are we needed in society and what do we exist for? In my view, our answer dates back to the establishment of Snow Brand Milk Products, one of our predecessors. It is, "a healthy earth ensures human health." "A healthy earth ensures human health" means that dairy farming strengthens the soil and the milk and dairy products from the enriched land are the ultimate nutritional foods that can foster healthy minds and resilient bodies.
The social issue at the time of our establishment was the stabilization and enrichment of people's diets in Japan. Our founders started a business to solve this issue through dairy farming. Today, the significance of our existence and our purpose lie in our efforts to solve many different social issues by offering value created throughout the dairy farming value chain.
Going forward, the Megmilk Snow Brand Group will do our best to remain a corporate group that fulfills society's expectations. We wholeheartedly ask for your continued patronage and support of our business.

Masatoshi Sato
Representative Director and President