Group Long-term Vision 2026​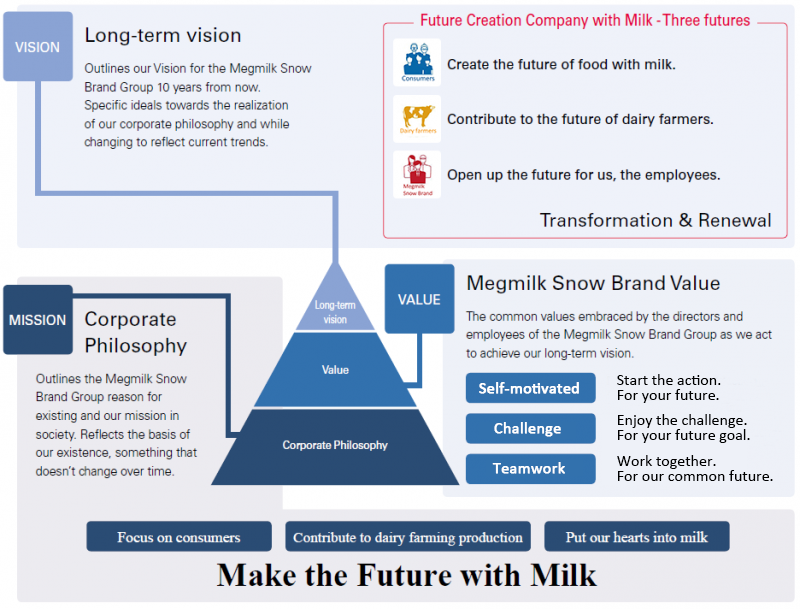 In May 2017, we created the Group Long-term Vision 2026 to outline the vision for the Megmilk Snow Brand Group ten years into the future. The catalyst behind this initiative included advancing trade liberalization, changes in milk trading system, and major shifts in the environment influencing the Megmilk Snow Brand Group.
Achieving corporate growth while responding to these changes in our operating environment will require that we address the various issues we are bound to face over the next 10 years.
Group Long-term Vision 2026​
To achieve our long-term vision, we outlined the strategic concept of Transformation & Renewal. This concept involves three initiatives, one of which is the creation of a business portfolio transformation for a new age that will enable us to create profits from numerous revenue streams. Next, we will conduct 300 to 400 billion yen in investments on the next ten years with a focus on production facilities.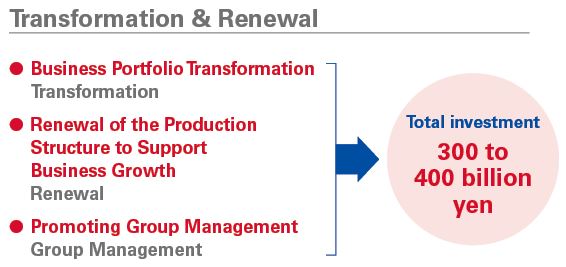 We outlined specific strategies based on our strategy concepts.
Transform our business portfolio to create new growth opportunities and strengthen our earnings bases.
Build strategic procurement and production structures for the future (ten years from now) to establish a competitive platform.
Create new value by engaging in manufacturing (monozukuri) grounded in R&D.
Respect and take advantage of personnel diversity to create a highly productive organization capable of continuous growth.
Utilize Group management resources effectively to maximize our Group competitiveness and core capabilities.
We will promote our long-term vision over a ten-year period divided into three stages.  In the first stage, we will Begin Transformation. In the second stage, we will Accelerate Transformation by implementing total innovation to our production system. The third and final stage will be a Total Renewal during which we launch a new long-term vision focused on stable profit generation and our outlook for the next ten years.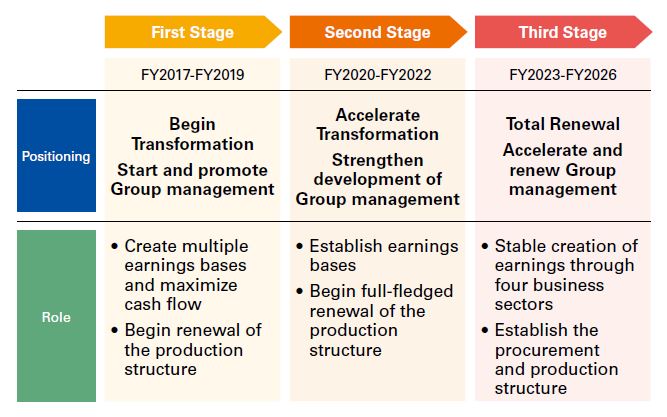 Group Long-term Vision 2026​
Megmilk Snow Brand Group has set the following benchmarks for our 2026 goal image.
| Performance indicators | FY2026 goal figures |
| --- | --- |
| Consolidated net sales | 700 to 800 billion yen |
| Consolidated operating profit | 30 to 40 billion yen |
| Items | Target |
| --- | --- |
| Total investment (10 year total) | 300 to 400 billion yen |
| Consolidated ROE | 8% or higher |
| Consolidated equity ratio | 50% or higher |
| Consolidated payout ratio | 30% or higher |