To Our Shareholders and Investors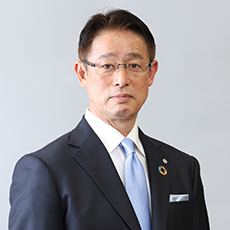 To Our Shareholders and Investors
Masatoshi Sato
Representative Director and President
The Japanese economy moved towards recovery in certain areas as conditions eased following a period of tough COVID-19 restrictions. However, the future continues to lack transparency due to a variety of factors, including the situation in Ukraine.
The food industry saw a decline in home cooking demand due to the elongation of conditions caused by COVID-19. And while we have seen signs of a recovery in dining industry demand, the industry is still working towards recovery. Additionally, global raw material and energy prices have skyrocketed in part due to the situation in Ukraine. These conditions have combined to create a difficult operating environment that is seeing prices for food and products continue to rise and impact consumer purchasing behavior.
Amid such an environment, our Group implemented initiatives in line with our Group Medium-term Management Plan 2022, through which we are working to establish profit platforms in four business sectors: Dairy Products, Beverages and Desserts, Nutrition, and Feedstuffs and Seed Products.
As part of those efforts, we worked to both expand business scope and secure profits by strategically expanding sales of mainstay products, particularly functional yogurt and cheese. Additionally, we focused on further improving our product mix and continued marketing activities in the Nutrition Business Sector. We also worked to strategically expand and establish a profit platform for the Feedstuff and Seed Products Business Sector. At the same time, we worked to enhance the overall strengths of our Group by maximizing the use of Group resources and increasing productivity along our value chain.
In the continued threat of COVID-19, we implemented initiatives to prevent infections among workers and ensure the stable provision of safe and secure products to our customers.
However, heading into the second half of FYE 3/ 2022, the skyrocketing costs of raw materials and energy, including the impact of currency market fluctuations, resulted in dramatic cost increases. Additionally, we saw a rebound from the previous year's increase in home cooking demand, resulting in a greater-than-expected decrease in net sales for consumer products.
As a result of the above conditions, consolidated operating performance for the consolidated fiscal year under review resulted in net sales of 558.4 billion yen ((Note) up 0.7% YOY), operating profit of 18 billion yen (down 8.7% YOY), ordinary profit of 19.9 billion yen (down 7.7% YOY), and profit attributable to owners of parent was 12 billion yen (down 19.1% YOY).
This fiscal year represents the final fiscal year of our Medium-term Management Plan 2022. We are projecting significant cost increases on raw material prices and logistics expenses, including the impact of currency market fluctuations. However, we position the three policies of Medium-term Management Plan 2022 (productivity improvement reforms, business structure reforms, and innovation in our production structure) as the pillars of our strategy through which we will implement initiatives aimed at achieving our goal of establishing profit platforms in four business sectors.
At the same time, we will apply the spirit of Kendo Kenmin (a healthy earth ensures human health), the founding spirit at the core of our Group, to promote Group sustainability management, to work towards resolving societal issues, and to help create a sustainable society that we can pass on to future generations.
We ask for your continued understanding and support.
Note: The Accounting Standard for Revenue Recognition began to be applied at the beginning of the first quarter of fiscal year ending March 31, 2022. The previous fiscal year's figures included in these materials have been calculated assuming the application of the new accounting standard.
Disclaimer: This document has been translated from a part of the Japanese original for reference purposes only. In the event of any discrepancy between this translated document and the Japanese original, the original shall prevail. The Company assumes no responsibility for this translation or for direct, indirect or any other forms of damages arising from the translation.

Representative Director and President
Masatoshi Sato