To Our Shareholders and Investors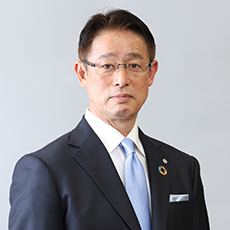 To Our Shareholders and Investors
Masatoshi Sato
Representative Director and President
The Japanese economy continues to recover moderately, partly due to the effect of various government policies, with an improving employment and income environment. With regard to the outlook, it is necessary to pay close attention to the impact of rising prices and fluctuations in the financial and capital markets, amid continuing global monetary tightening.
In the food industry, dining industry demand has been showing signs of recovery, partly because of an increase in inbound demand. On the other hand, rising costs such as global raw material and energy prices have become factors for the high prices of food and other commodities, having an impact on the purchasing behavior of consumers.
Amid this business environment, the Megmilk Snow Brand Group (the "Group") has started the Megmilk Snow Brand Group's Medium-term Management Plan 2025 (the "Group's Medium-term Management Plan 2025") with initiatives for "Creating seeds for new growth," "Expanding quantity by utilizing infrastructure" and "Strengthening and supporting the domestic dairy production base" as three pillars for the Group's business strategy.
In FY2023, the first year of the Medium-term Management Plan 2025, we regard "Responding to higher costs" through improved productivity in all value chains, the review of the cost structure and appropriate price formation, "Maintenance and expansion of the top line" in response to environmental changes and "Creation of seeds for new growth overseas centering on Asia and in EC Business and the start of initiative to that end" as priority issues and has been actively engaged in these initiatives.
As a result, net sales for the first six months of the consolidated fiscal year under review amounted to 305,669 million yen (up 5.7% YOY), operating profit came to 11,242 million yen (up 53.0% YOY), ordinary profit amounted to 12,240 million yen (up 77.8% YOY) and profit attributable to owners of parent was 7,698 million yen (up 234.5% YOY).
We consider the Group's Medium-term Management Plan 2025 as a period of preparation for the next 100 years, during which the Group will build a strong business structure and a foundation essential for growth. The business environment surrounding the Group, including consumer behavior and prices of raw materials and energy, has changed significantly over the past few years. In the Group's Medium-term Management Plan 2025, we will generate operating profit of 20 billion yen, on a par with the level in FY2020, by flexibly adapting to the current business environment.
In addition, the Group has decided to realize the sustainability of food in the Group's Medium-term Management Plan 2025 through the extensive knowledge and functions (milk value chain) it has cultivated in milk with its founding spirit "Kendo Kenmin" (a healthy Earth ensures human health), aiming to address social issues based on the significance of its existence and its ambition. We will aim to enhance our corporate value and realize a sustainable society that can be passed on to future generations by simultaneously realizing "social value" and "economic value" through our core business.
We look forward to your continued support and encouragement in the future.

Representative Director and President
Masatoshi Sato