Developing and supplying special milk for treatment of congenital metabolic disorders
Special milk is infant formula for people who were born with the inability to sufficiently metabolize amino acids.
Newborns undergo blood tests immediately after birth. Depending on conditions, doctors may prescribe special milk upon the discovery of phenylketonuria or other metabolic disorders. Special milk is used in combination with normal milk and food as a method of nutritional therapy to improve conditions.
Megmilk Snow Brand developed Japan's first special milk for such patients and has continued to manufacture and supply such special milk since 1963. Megmilk Snow Brand views the provision of special milk as one of our social responsibilities and we will continue to ensure product quality and stable supply.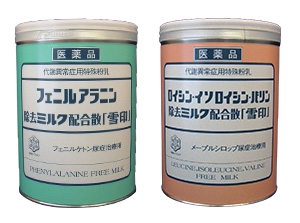 Special infant formula we produce and supply
Product
Target illness
Pharmaceutical products
(2 products)
Snow Brand Phe-free Milk Compound
Phenylketonuria
Protein / amino acid metabolism abnormality
Snow Brand Leu, Ile, and Val-free Milk Compound
Maple syrup urinary disease
Registered special milk
(6 products)*
Phe-free synthetic amino acid powder
Phenylketonuria
Met-free powder milk
Homocystinuria
Phe, Tyr-free milk powder
Hypertyrosinemia
Protein-free milk powder
Hyperammonemia
Ile, Val, Met, Thr, Gly-free milk powder
Methylmalonic acidemia Propionic acidemia
Organic metabolic syndrome
Lys, Trp-free milk powder
Glutaric acidemia type I
* Manufactured and supplied in accordance with directive by the "Special Milk Secretariat of the General Health Center for Women and Children, Imperial Gift Foundation, Boshi-Aiiku-Kai"