About Us
Towards establishing CSR
Providing safe and reliable products : Our quality checking process from three standpoints.
Providing safe and reliable products for customers and consumers is a matter of course for MEGMILK SNOW BRAND Co., Ltd. We listen carefully to opinions which customers and consumers give about our products and apply their need to business management so as to achieve the trusted quality.
Quality Assurance Policy
1. Comply with all laws, regulations and company rules under a consumer-focused Quality Assurance
Structure so as to provide safe and reliable products.

2. Provide appropriate information so as to meet consumers' trust.

3. Pay close heed to consumers' opinion so as to achieve satisfactory quality.

4. Establish a risk management system to cope with unexpected events promptly and properly.
Outline of the Megmilk Snow Brand Quality Assurance System (MSQS)
Quality Audits
Outside the company
Quality audits by the specialists outside the company (audits conducted by the Quality Sub-Committee of the Corporate Ethics Committee and by AIB (American Institute of Baking) Food Safety Audit)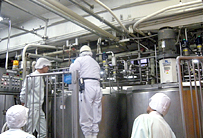 On-site

Quality audits of the products conducted by Plant Quality Control Sections

Inside the company

Quality audits of plants and materials suppliers by Quality Assurance Department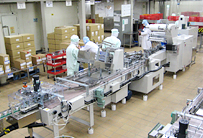 Quality Assurance Organization
Analysis Center
The Analysis Center underpins the MSQS Quality Assurance System by inspecting and analyzing products and ingredients, and by educational training for inspectors.
・Safety test of ingredients by GC/MS or LC/MS analysis equipment. (positive list system-compliant)
・Product preservation test to set shelf life.
・Fostering of Inspectors by the in-house certification system (Inspector Certification System)
・The Analysis Center acquires of ISO/IEC17025 certification in October 2002. This certifies the provision of data that is trusted internationally. By gaining public recognition of its high level operations systems and analysis technology, the Analysis Center increased its reliability as an inspection unit.
Guaranteeing Safety and Quality
Improving the skills of inspectors through the Inspector Certification System
Our Analysis Center conducts the ingredient safety confirmation, shelf life setting test, validation test of nutrient composition for products indication. In 2002, the Analysis Center was the first food company laboratory in Japan to acquire International Organization for Standardization ISO/IEC17025 certification. Based upon the philosophy of this certification, we implemented the Inspector Certification System to assure the reliability of the product shipment inspections conducted in our plants.
Our aim in these activities is to improve the level of inspection performed by all our Plant Quality Control Sections. We continue to provide safe and reliable products.
Analytical Skill Training
We implement many courses, from the basic to special inspection methods, such as lactobacilli inspections, etc for the Quality Control Sections in the plant.
Food Hygiene Research Laboratory
The Food Hygiene Research Laboratory engage in comprehensive efforts to ensure the safety of our products, such as research into food hygiene, checking of the manufacturing processes, and also hygiene training. The results of our research circulate broadly within society, contributing to improved safety.
・Research into listeria testing
・Basic research into Staphylococcus aureus (coagulase positive) and the development of test kit for testing.
・Hazard analysis in the manufacturing process.
・Food hygiene training for the plant workers.